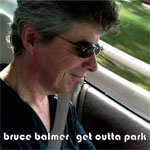 Listen! Buy!

Get Outta Park!
"Listen to Bruce Balmer's

Get Outta Park

for the cool, eclectic guitar playing and the lyrical, gleam-in-the-eye rhymeplay and wordplay."


- Tom Geddie, Buddy Magazine



---
The Ghost Dog Blog - Soona's Winter Song
1/21/2015
Greetings Soonaphiles!
Ghost Dog here, hoping you are keeping well and keeping warm!
Things are busy at Soona Central, so, take a number! New Radiophonic album, almost out the chute; Markley & Balmer double album, ready for the mixmaster; new Kevin Elliott album, next in line. Add in the yearly trek to Folk Alliance International and some new Soona Snacks, and you know we are chasing our collective tails.
First, a word from Esteemed CEO!
Indulge us, go to the Soona Songs Store and buy a CD! Thank you.
Man of many tasks, Graham Duncan, is coordinating the final touches on the almost named and song ordered second Radiophonic album. Ghost Dog is pleased with progress so far - hopes it will be available by the March 1st blog!
The sweet summer recording session of Markley & Balmer will be in the mixing seat as soon as Radiophonic exeunts the chair. Preliminary listening promises a wonderful mixture of original tunes and American Songbook. Amazing Bruce Balmer guitar, amazing Lisa Markley vocals, even better together!
November brought Kevin Elliott with a load of new tunes into the studio in Jonesborough. Graham came too, and the session went very well, in Ghost Dog's humble opinion. Post production will be underway soon... look forward to classic Kevin, thoughtful, quirky and beautifully played.
Soona acoustic arteests are heading to Kansas City in February for the International Folk Alliance Conference! This year, in addition to the Soona Songs Showcase, where you can hear all our artists and many of our friends (see schedule below), we will introduce a new service - the opportunity to record a live CD in our studio! More later... contact Esteemed CEO with any questions!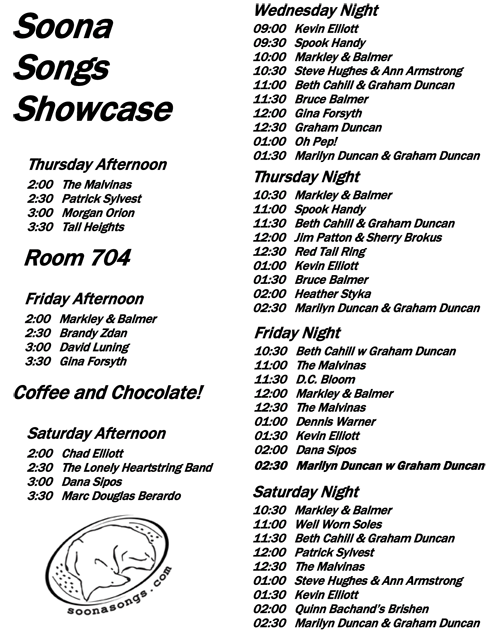 Soona Snacks
As we await the return of the sun, Ghost Dog wishes you a fruitful winter season, and thanks you for supporting independent music, especially ours!
Soona
---
Ghost Dog Blog archive:
2014
2013
2012
2011
2010
2009
2008
2007
2006