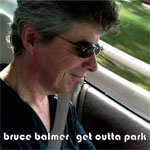 Listen! Buy!

Get Outta Park!
"Listen to Bruce Balmer's

Get Outta Park

for the cool, eclectic guitar playing and the lyrical, gleam-in-the-eye rhymeplay and wordplay."


- Tom Geddie, Buddy Magazine



---
The Ghost Dog Blog - Holidaze Edition
11/11/2014
Greetings Soonaphiles!
Ghost Dog here, hoping you are hale, hearty and ready for the coming season! Veterans Day through Martin Luther King's Birthday... there is plenty of celebrating ahead.

A word from Esteemed CEO:
Check out the Soona Songs Store for all your holiday gift giving needs. Folk, Jazz, Pop, Rock and Roots - gluten free albums for every taste. One size fits all! You buy it, I will wrap it! Thank you.
We've been busy at Soona Central.
Promotion continued on Bruce Balmer's critically acclaimed album
Get Outta Park
, with a local CD Release here at The Down Home!
We finished up a children's album for Dr. Rebecca Isbell,
Songs Too Good To Miss
, which you can find at
drisbell.com
This is a great gift for anyone with young children.
Bruce Balmer and Lisa Markley were in the studio in August recording their upcoming double album. American Songbook on one disc, featuring Jazz Diva Lisa with the Bruce Balmer Orchestra, and songs Markley & Balmer thunk up themselves on the other. Ghost Dog wonders how the Folk and Jazz DJs will take this, but is sure Esteemed CEO will find a way.
Soona rockers Radiophonic are in the final stages of their second release. Lions to Horses is the working title - the music is ready and the album art is almost ready!
Kevin Elliott will be in the studio later this month to record his second Soona release. A preproduction meeting in July left everyone with happy ears.
As a little Holiday gift - four
Soona Snacks
from our last four releases:
A Bruce Balmer ballad from

Get Outta Park

- Hudson's Bay
A Kevin Elliott ballad from

It's a Circus Here, Dolores

- Where the Songs are Silent
An instrumental from Radiophonic, featuring Gina Forsyth on Fiddle - Frogstomp
Last but not least, from Beth Cahill's

Songs for Sarah

- Me and Steve
All of us at Soona Songs wish you a very happy, merry, tail-wagging season, celebrate all you can! And thank you for supporting independent music, especially ours.
Soona
---
Ghost Dog Blog archive:
2014
2013
2012
2011
2010
2009
2008
2007
2006