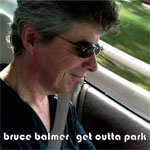 Listen! Buy!

Get Outta Park!
"Listen to Bruce Balmer's

Get Outta Park

for the cool, eclectic guitar playing and the lyrical, gleam-in-the-eye rhymeplay and wordplay."


- Tom Geddie, Buddy Magazine



---
The Ghost Dog Blog
3/05/2015
Soona's Spring Forward Serenade
Greetings Soonaphiles!
Ghost Dog here, hoping you are thawing well after a particularly snowy season!
Here at Soona Central we are tail wagging busy. Impending releases from Radiophonic, Markley & Balmer, and Kevin Elliott; rumors of The Malvinas in the studio; new
Soona Studio offerings
; and of course some new
Soona Snacks
!
First, a word from Esteemed CEO:
It is the spring gifting season so gift some Soona albums to all your unsuspecting giftees. Find something for everyone at the Soona Songs Store. Thank you.

The final touches are being made to the new Radiophonic release,
The Proud Ones
. It will go soon to the capable hit making hands/ears of mastering man, John Scrip. Our exceptionally gifted and geographically challenged rockers have given us another great album. You will find a pre-release of the title song in the Soona Snacks. The album will be available for download and also as a CD, for those of you who still like to hold your music.
Folk/Jazz/Eclectic duo, Markley & Balmer wowed us all at the Folk Alliance Conference and their recorded efforts are in the mixmaster now! Ghost Dog is excited about this upcoming summer release. To whet your appetite, you can find "She Knows" from their debut album in the Soona Snacks!
Man of the finger style guitar, Kevin Elliott's release is next in line, and our ears are very happy with the initial mix! Watch this space!
Rumor has it that The Malvinas, power female folk trio made up of Beth Cahill, Gina Forsyth, and Lisa Markley will be heading to the studio this summer! The long awaited third album may actually happen!
In addition to recording all our own artists, Soona Songs is ready to offer our recording services to lucky artists who happen our way!
Check out our Studio page
and learn about our live recording and plain old regular sessions too! Esteemed CEO will be happy to talk to you about your project.
Soona Snacks - for your download enjoyment
Ghost Dog wishes you a pleasant spring and hopes you keep your tail from under the rocker, once we can get back on the porch!
Thanks for supporting independent music, especially ours!
Soona
---
Ghost Dog Blog archive:
2015
2014
2013
2012
2011
2010
2009
2008
2007
2006